Sometimes, when we look outside the window, we can honestly say: "Oh, s**t! WTF is wrong with the weather?!"
Well, let FuWeather app do that for you. It will check the weather and show it in a very special way…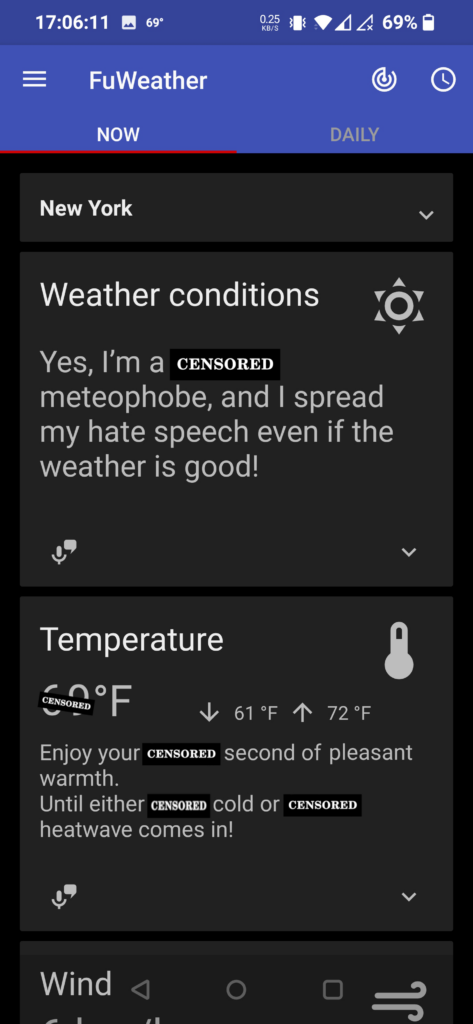 Features:
Funny weather app – you're going to have a smile on your face while the app will be complaining and swearing about the weather,
Accurate current conditions,
Hour-by-hour weather,
Two-week forecast (detailed, of course)
Weather maps (radar, satellite, temperature, humidity, wind)*,
Home screen widgets**,
Optional weather notifications**.
Everything served in a sarcastic, sharp-tongued (and sometimes even humorous) manner.
Fully customizable. You can adjust colors, temperature preference, add your own sayings or those submitted by other users and much more.
The app was previously called "Fu*** Weather (Funny weather)". The name changed, the humor stays the same (and so does everything else)!
Warning:
The app contains strong language. Lots of swearing, cursing, and other profane words. Not politically correct. If you easily get offended, perhaps you should just watch the TV forecast and not bother me.
* Some features may be limited or unavailable in some locations.
** Some features may require a paid premium membership.